Cognitive Behavioral Therapy Is An Effective and Widely Researched Form Of Talk Therapy
Cognitive behavioral therapy, also known as CBT, is one of the few forms of psychotherapy ("talk therapy") that has been widely studied in both research and clinical practice. It is a goal-oriented and time-limited type of psychotherapy that helps patients change their behavior by changing the way they react to the things that cause fear and anxiety.
Cognitive Behavioral Therapy focuses on the relationship between our Thoughts, Feelings, and Behavior – this is known as the Cognitive Triangle.
Hundreds of research studies suggest that CBT leads to significant improvement in functioning and quality of life, and is effective for a wide range of problems including depression (including depression in older adults) anxiety disorders, insomnia, bipolar disorder, and post traumatic stress disorder. CBT has been studied in adults, older adults, children, and adolescents.
Which Mental Health Disorders Can CBT Be Used To Treat?
There is an extensive list of mental health disorders which Cognitive Behavioral Therapy has been studied and shown to be an effective treatment. Treatment goals are established in collaboration with patients.
Common Conditions Treated With Cognitive Behavioral Therapy
The conditions below are just some of the mental health and physical health conditions that CBT has been studied as an effective treatment.
Generalized Anxiety Disorder, Panic Disorder, Social Anxiety, Obsessive-Compulsive Disorder, Post-Traumatic Stress Disorder, and Trauma are just some of the anxiety related disorders that can be treated with Cognitive Behavioral Therapy.
Geriatric Depression, Seasonal Depression (also known as Seasonal Affective Disorder), and Prepartum and Postpartum Depression have been widely researched as conditions that can be treated with CBT.
In combination with medication, CBT may help improve the functioning of patients with ADHD.
CBT has been studied in patients with Bipolar Disorder and researchers have found that cognitive behavioral therapy combined with medication is more effective than medication alone.
Eating Disorders
Cognitive Behavioral Therapy can be used to treat patients with eating disorders such as anorexia, binge-eating disorder, bulimia, and body dysmorphic disorder.
"Cognitive behavioral therapy (CBT) helps people identify and change thinking and behavior patterns that are harmful or ineffective, replacing them with more accurate thoughts and functional behaviors. It can help a person focus on current problems and how to solve them. It often involves practicing new skills in the "real world".

–

American Psychiatric Association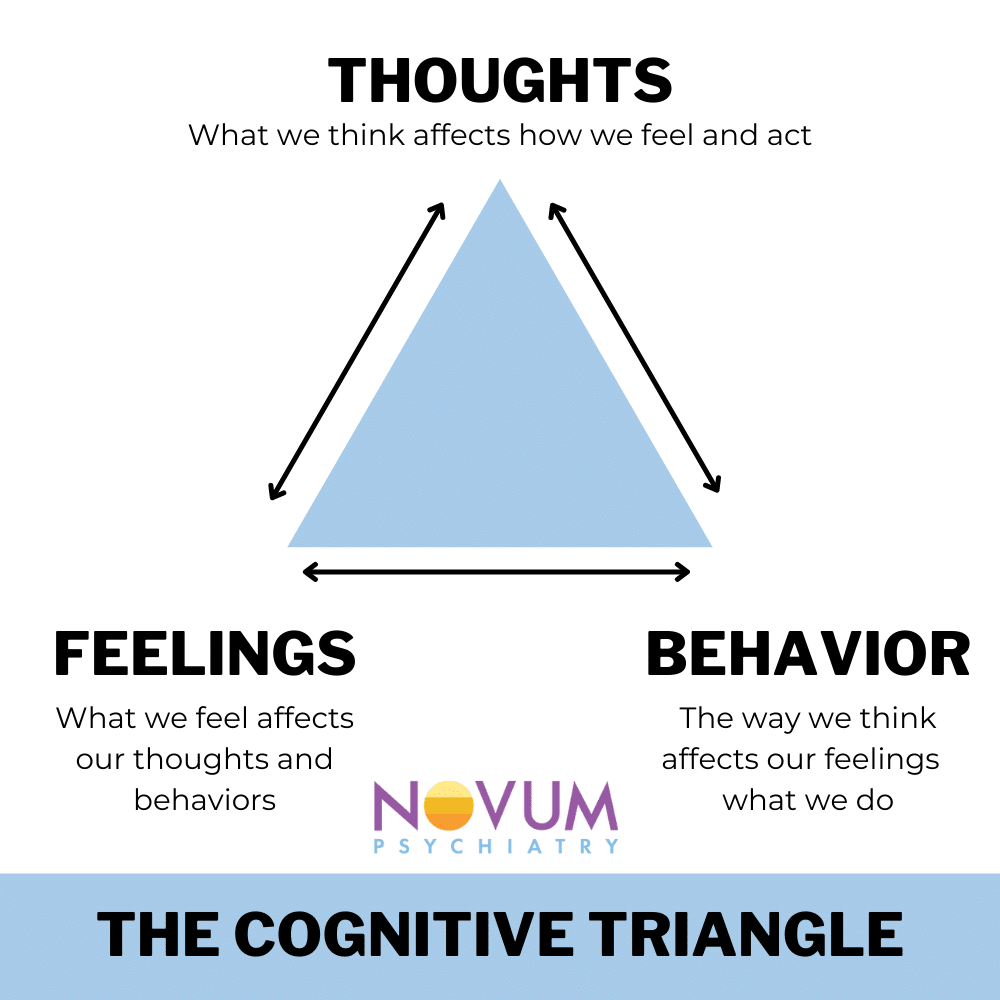 CBT Video Resources
6 Key Components of Cognitive Behavioral Therapy
How Does CBT Work?
CBT focuses on patterns of thinking to improve a person's feelings and behaviors that contribute to certain mental health conditions such as anxiety, depression, insomnia, and post traumatic stress disorder.
In CBT, you'll work with your provider to identify and correct distorted thinking patterns that are self-defeating. Unhelpful thinking patterns include, but are not limited to: overgeneralization (using the words "always" or "never" about a certain situation), catastrophic thinking (dreading or assuming the worst), and discounting the positive.
People participating in CBT learn specific skills that can be used to solve problems they encounter regularly by targeting dysfunctional thoughts and behaviors that may have been learned throughout the person's life.
Does CBT Work For Everyone?
Sometimes Cognitive Behavioral Therapy is not the right choice, such as when the goal is to gain deep insight into the cause of problems (past trauma), or for people with complex mental health conditions.
Since the length of CBT treatment is generally considered short-term therapy, it may not be the best modality for people needing long-term psychotherapy. Your Novum Psychiatry provider will evaluate and make recommendations if CBT is right for you based on your individual needs.
How Long Does Cognitive Behavioral Therapy Take?
Compared to other psychotherapy approaches, CBT is a short-term treatment. At the same time, there is also no standard length of cognitive behavioral therapy treatment. Some people may feel better after a few sessions while others may require several months. The duration of therapy generally depends on the type of problem, severity of the problem, and the individual.
Some reasons why CBT is a preferred type of psychotherapy is because it generally requires fewer sessions than other therapies, can help people quickly identify and cope with specific challenges, and is done in a structured way.
Can CBT Be Used To Treat Medical Problems?
Yes, CBT has also been widely studied as an effective treatment for medical problems such as chronic pain (in combination with physical therapy), chronic headaches, tinnitus, irritable-bowel syndrome, sleep disorders, insomnia, and chronic fatigue syndrome.
Can CBT Be Done Via Telehealth?
Yes! Novum Psychiatry offers CBT via telehealth to residents in Massachusetts and Rhode Island.
While studying the effectiveness of Cognitive Behavioral Therapy in remote settings is a newer area of research, findings from multiple studies have shown that CBT delivered via telemedicine can meet the same quality standards and was effective in the treatment of anxiety, depression, and insomnia in adults.
Does CBT Involve Medication?
CBT can be used in conjunction with medication, or independently. Many patients are treated without medication, while others benefit from a combination of cognitive therapy and medication.
Questions To Ask Yourself Before Initiating Cognitive Behavioral Therapy
Request Evaluation
If you are interested in learning if Cognitive Behavioral Therapy is right for you, please call
978-252-0873 or contact us for a confidential evaluation today.