Depression is more than just feeling down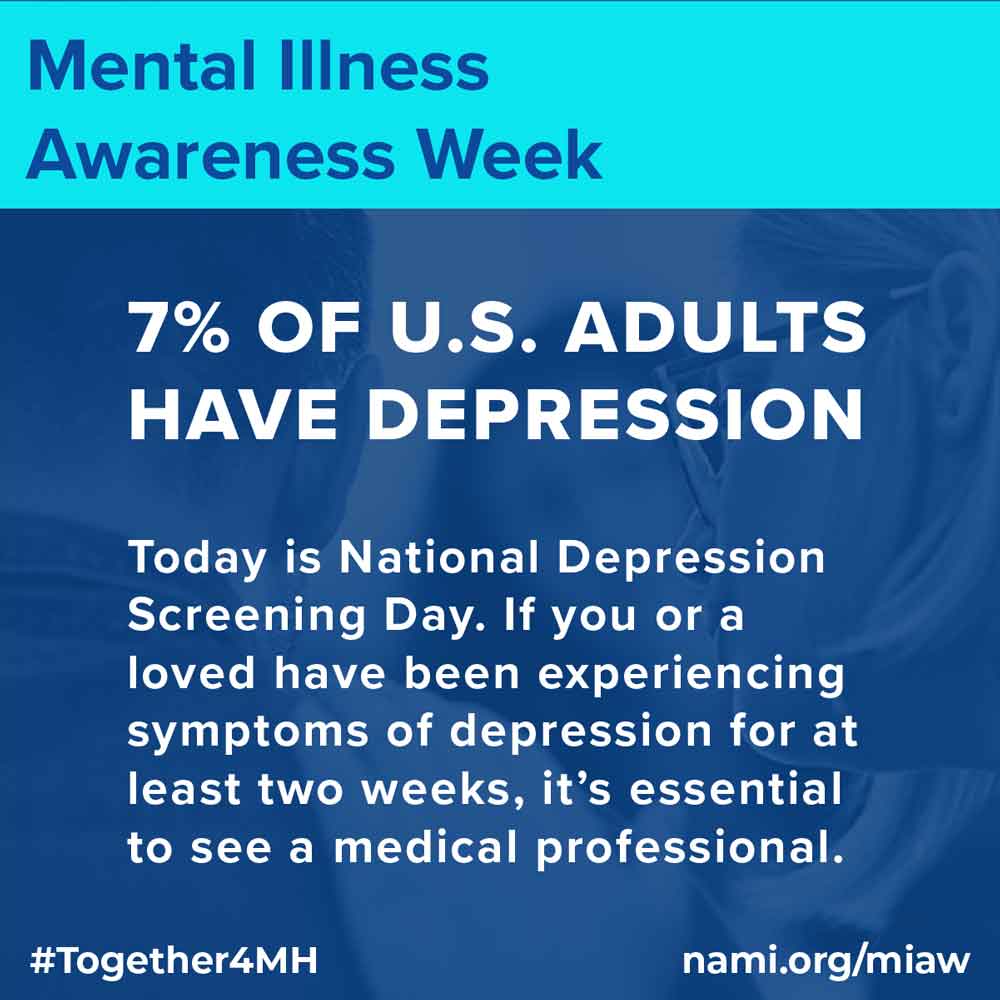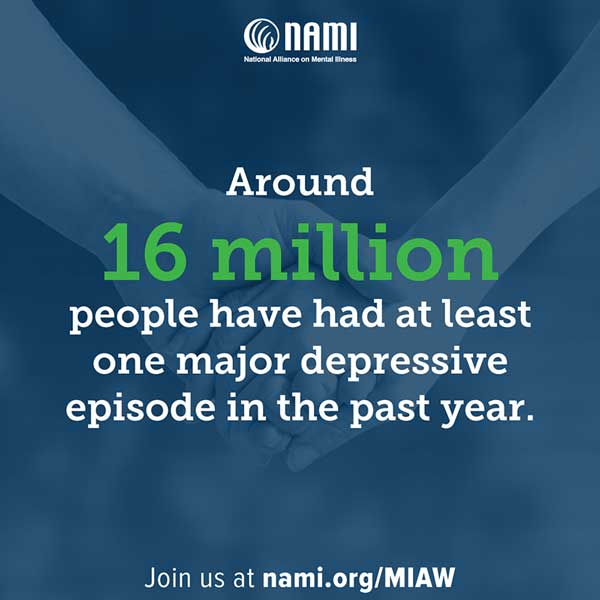 October 5, 2023 is National Depression Screening Day, a part of Mental Illness Awareness Week.
Depression is more than just feeling sad or going through a rough patch. No one experiences depression the same way, but it can affect anyone at anytime. October also marks the start of the season where some people begin to feel the effects of seasonal depression.
It's a common, but serious mental health condition that requires understanding and medical care. Left untreated, depression can be devastating for the people who have it and for their families. Fortunately, with early detection, diagnosis and a treatment plan consisting of medication, psychotherapy and lifestyle choices, many people can get better. Mental health conditions, such as depression or anxiety, are real, common and treatable.
Online Depression Screening
Mental Health America offers a free, anonymous and confidential online depression screening tool that can help catch mental health problems early.

Online screening tools are meant to be a quick snapshot of your mental health. If your results indicate you may be experiencing symptoms of a mental illness, consider sharing your results with someone. A mental health provider (such as a doctor or a therapist) can give you a full assessment and talk to you about options for how to feel better.
Screenings are not a professional diagnosis. Screenings point out the presence or absence of depressive symptoms and provide a referral for further evaluation if needed.
Who Should Get Screened?
Anyone can get depressed, no matter the age or person. There are different forms of depression such as seasonal affective disorder, postpartum depression, and bipolar disorder, as well as other co-occuring disorders.
You should see your doctor or a qualified mental health professional if you experience five or more symptoms of depression for longer than two weeks or if the symptoms are severe enough to interfere with your daily routine.
Persistent feelings of sadness, anxiety, or emptiness
Irregular sleep patterns: too little, frequent early awakenings, or excessive sleep
Changes in appetite leading to weight loss or gain
Lost interest in previously enjoyed activities
Feeling restless or easily irritated
Trouble with concentration, memory, or decision-making
Persistent fatigue or low energy
Thoughts of death or suicide
Why Screen For Depression?
Clinical depression is a serious medical illness.
Clinical depression can lead to suicide.
Sometimes people with depression mistakenly believe that symptoms of depression a "normal part of life".
Clinical depression affects men and women of all ages, races and socioeconomic groups.
Only about a third (35.3%) of those suffering from severe depression seek treatment from a mental health professional.
Depression can co-occur and complicate other medical conditions.
Screenings are often the first step in getting help.
Our Experienced Team of Psychiatrists Can Help!
We know that taking the first step can be difficult.
Our highly-trained psychiatrists and therapists offer a comprehensive and confidential approach to private, outpatient psychiatric care. Whether this is your first time seeking psychiatric care or if you are seeking a new provider, Novum Psychiatry can help. In-person and telehealth appointments available. We accept health insurance.
Fast Facts About Depression *
As reported by Mental Health America*
Major depression is one of the most common mental illnesses, affecting 6.7% (more than 16 million) of American adults each year.
Depression causes people to lose pleasure from daily life, can complicate other medical conditions, and can even be serious enough to lead to suicide.
Depression can occur to anyone, at any age, and to people of any race or ethnic group. Depression is never a "normal" part of life, no matter what your age, gender or health situation.
While the majority of individuals with depression have a full remission of the disorder with effective treatment, only about a third (35.3%) of those suffering from severe depression seek treatment from a mental health professional. Too many people resist treatment because they believe depression isn't serious, that they can treat it themselves or that it is a personal weakness rather than a serious medical illness.
Is Depression Treatable?
Depression is very treatable, with the overwhelming majority of those who seek treatment showing improvement. The most commonly used treatments are antidepressant medication, psychotherapy or a combination of the two. Learn more about therapy and medication.
The choice of treatment depends on the pattern, severity, persistence of depressive symptoms and the history of the illness. As with many illnesses, early treatment is more effective and helps prevent the likelihood of serious recurrences. Depression must be treated by a physician or qualified mental health professional.
Help is Available!
When you're depressed, it's easy to feel alone. It might feel like no one understands what you're going through. You might not even fully understand it yourself! Reaching out can be scary, but there's no need to suffer through depression on your own.
The Board Certified psychiatrists of Novum Psychiatry have extensive experience in the screening, diagnosis, and treatment of depression, so please request your confidential evaluation today. If you think you may be showing signs of depression and you are located in Massachusetts or Rhode Island, our experienced team of psychiatrists can help evaluate and diagnose your symptoms and work with you on a treatment plan so you can start feeling better.