Depression is more than just feeling down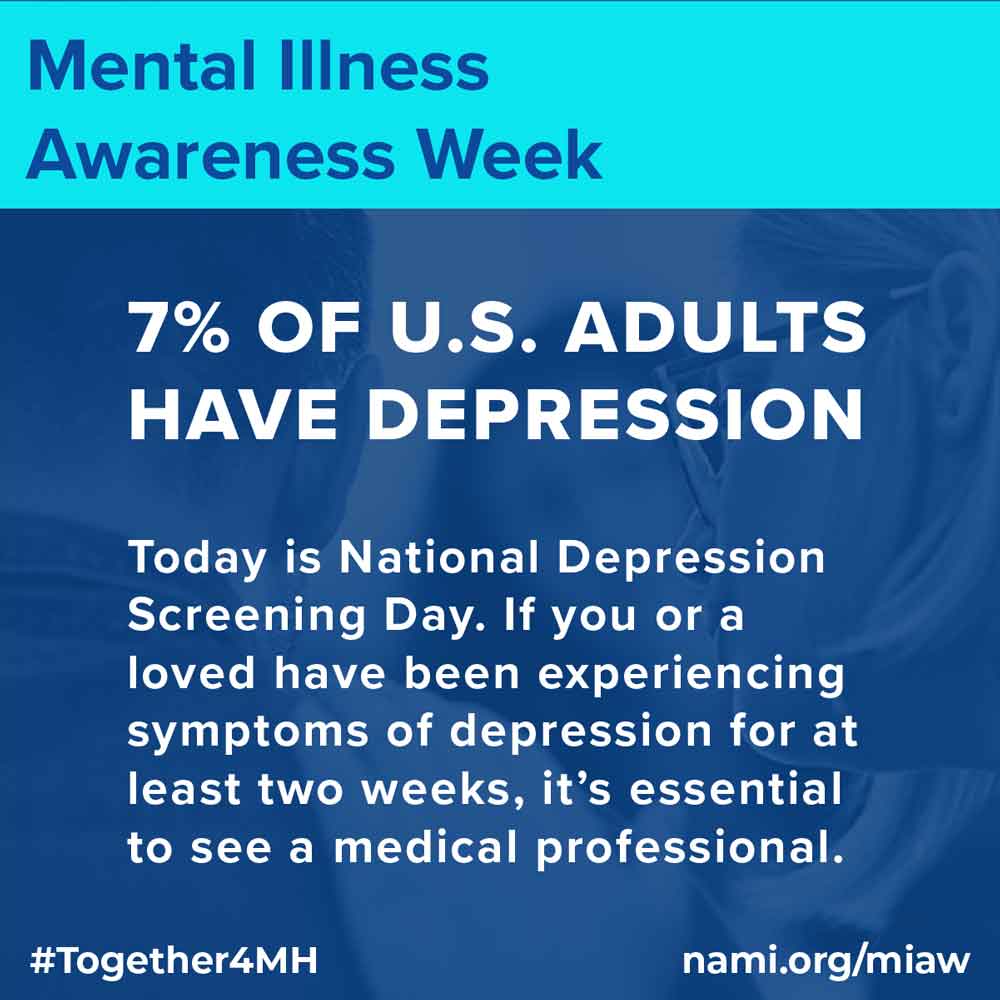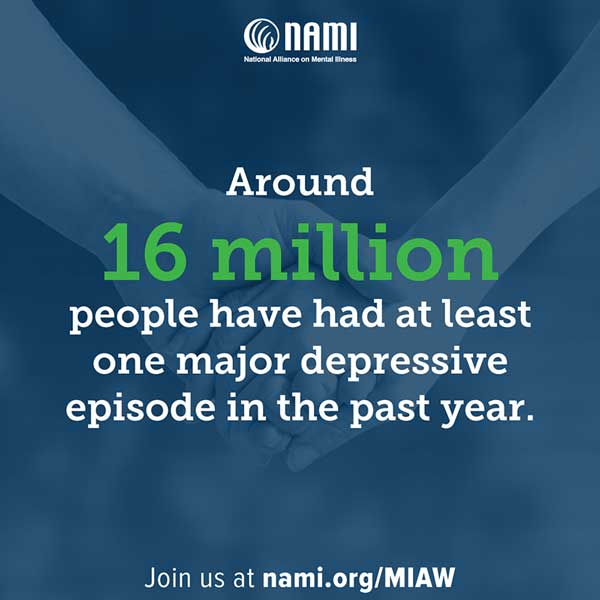 October 7, 2021 is National Depression Screening Day, a part of Mental Illness Awareness Week.
Depression is more than just feeling sad or going through a rough patch.
It's a common, but serious mental health condition that requires understanding and medical care. Left untreated, depression can be devastating for the people who have it and for their families. Fortunately, with early detection, diagnosis and a treatment plan consisting of medication, psychotherapy and lifestyle choices, many people can get better.
Depression causes severe symptoms that affect how you feel, think and handle daily activities such as sleeping, eating, and working. To be diagnosed with depression, symptoms must be present for at least two weeks.
Anyone can get depressed, no matter the age or person.
Depression in older adults, postpartum depression, and seasonal affective disorder are forms of depression.
Symptoms of depression can include:
Persistent sad, anxious, or "empty" mood
Feelings of hopelessness or pessimism
Feelings of irritability, frustration' or restlessness
Feelings of guilt, worthlessness, or helplessness
Loss of interest or pleasure in hobbies or activities
Decreased energy, fatigue, or being "slowed down"
Difficulty concentrating, remembering, or making decisions
Difficulty sleeping, early morning awakening, or oversleeping
Changes in appetite or unplanned weight changes
Aches or pains, headaches, cramps, or digestive problems without a clear physical cause and that do not ease even with treatment
Suicide attempts or thoughts of death or suicide
Depression Screening
There are many depression screening tools online. These are not diagnostic instruments, but may help provide insight into if you should seek help for your symptoms and help you start a conversation with your doctor.
Again, online screenings are not a professional diagnosis. Screenings point out the presence or absence of depressive symptoms and provide a referral for further evaluation if needed. You should see your doctor or a qualified mental health professional if you experience five or more of these symptoms for longer than two weeks or if the symptoms are severe enough to interfere with your daily routine.

If you think you may be showing signs of depression and you are located in Massachusetts or Rhode Island, our experienced team of psychiatrists can help evaluate and diagnose your symptoms.
Our Experienced Team of Psychiatrists Can Help!
We know that taking the first step can be difficult.
Our highly-trained psychiatrists and therapists offer a comprehensive and confidential approach to private, outpatient psychiatric care. Whether this is your first time seeking psychiatric care or if you are seeking a new provider, Novum Psychiatry can help. In-person and telehealth appointments available. We accept health insurance.
Why Screen For Depression?
Clinical depression is a serious medical illness.
Clinical depression can lead to suicide.
Sometimes people with depression mistakenly believe that symptoms of depression a "normal part of life".
Clinical depression affects men and women of all ages, races and socioeconomic groups.
Only about a third (35.3%) of those suffering from severe depression seek treatment from a mental health professional.
Depression can co-occur and complicate other medical conditions.
Screenings are often the first step in getting help.
Who Should Get Screened For Depression?
People suffering from depression often experience some of these key symptoms:
A persistent sad, anxious or "empty" mood
Sleeping too little, early morning awakening, or sleeping too much
Reduced appetite and weight loss, or increased appetite and weight gain
Loss of interest or pleasure in activities once enjoyed
Restlessness or irritability
Difficulty concentrating, remembering or making decisions
Fatigue or loss of energy
Thoughts of death or suicide
Fast Facts About Depression *
As reported by Mental Health America*
Major depression is one of the most common mental illnesses, affecting 6.7% (more than 16 million) of American adults each year.
Depression causes people to lose pleasure from daily life, can complicate other medical conditions, and can even be serious enough to lead to suicide.
Depression can occur to anyone, at any age, and to people of any race or ethnic group. Depression is never a "normal" part of life, no matter what your age, gender or health situation.
While the majority of individuals with depression have a full remission of the disorder with effective treatment, only about a third (35.3%) of those suffering from severe depression seek treatment from a mental health professional. Too many people resist treatment because they believe depression isn't serious, that they can treat it themselves or that it is a personal weakness rather than a serious medical illness.
Is Depression Treatable?
Depression is very treatable, with the overwhelming majority of those who seek treatment showing improvement. The most commonly used treatments are antidepressant medication, psychotherapy or a combination of the two. Learn more about therapy and medication .
The choice of treatment depends on the pattern, severity, persistence of depressive symptoms and the history of the illness. As with many illnesses, early treatment is more effective and helps prevent the likelihood of serious recurrences. Depression must be treated by a physician or qualified mental health professional.
The Board Certified psychiatrists of Novum Psychiatry have extensive experience in the screening, diagnosis, and treatment of depression, so please request your confidential evaluation today.